5 Ideas For Giving Meaningfully This Holiday
As the old saying goes—it's the thought that counts. Although a giant, sparkling diamond ring or a set of brilliant blue sapphire earrings will take someone's breath away based on looks alone, the true beauty in a gift is often what it represents. If thoughtful is your thing, you'll want to take a look at these five ideas for giving meaningfully this holiday.
GIFT IDEA #1
The STOP Collection
A Story Of Self-Care
Get to know the story behind the STOP Collection and you'll see why these shimmering octagons go above and beyond as a symbolic gift. Inspired by actual stop signs in shape, they're meant to be a reminder to those who wear them to pause each day for at least a moment of self-care.
If you know someone who's always doing for others but hardly takes time for themselves, this is a gorgeous reminder that will underscore the importance of some self-nurturing.
GIFT IDEA #2
Morganite Stones
Love, Love, Love
If you think rose quartz is the universal gemstone of love, you haven't meant morganite. This peachy-pink gem represents not only the bonds of unconditional love, but a connection to divine love too—and all the inner peace, joy, and strength that goes along with it.
If there's someone in your life who could use the support of a stone that symbolizes healing and love (or who leans a bit mystical—morganite is often crystal ball material)—you'll want to check out this stone.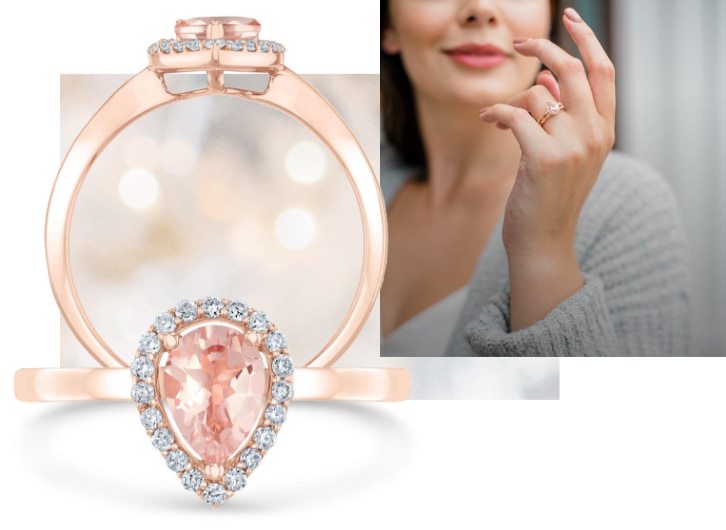 GIFT IDEA #3
Pearl Jewelry
Inspiring Elegance
Though pearls are most often regarded as symbols of wisdom, there are countless meanings. From appearances in the bible (similar to heaven, a pearl is a treasure that needs no polishing by man) to appearances in literature (the pearl is a symbol of hope in the beginning of Steinbeck's classic novel, The Pearl), there are any number of interpretations.
Though they've enjoyed a long history as a classic, elegant accessory, pearls are having a renaissance and even the most modern fashion lover can enjoy working them into their wardrobe.
GIFT IDEA #4
Cross Jewelry
The Peace Found In Faith
When you give someone a cross to wear, you're giving them a token of faith—the assurance of things hoped for and the conviction of things not seen.
The cross can represent forgiveness, peace, and divine love. Whether simple gold or dazzling diamonds, this symbol is a reminder of life's biggest blessings and the cozy comfort of a faithful heart..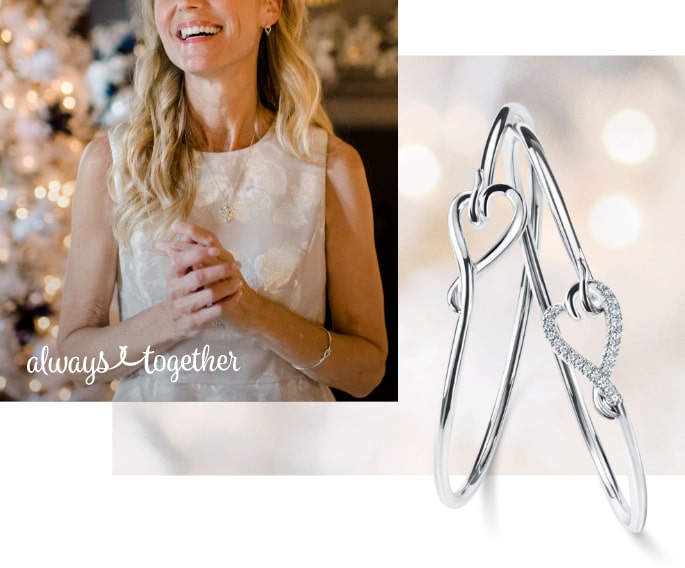 GIFT IDEA #5
The Always Together Collection
Unbreakable Bonds
This jewelry collection was crafted not with romantic love in mind, but all those other unbreakable bonds—sisterhood, friendship, the love between mother and son. Inspired by heart-to-heart moments, silly inside stories, and deep (maybe even life-altering) conversations, this is a collection meant to immortalize those moments that you feel so deeply loved and grateful for someone in your life.
Whether your loved one is near or far, these pieces are designed to remind them of the bonds you share, and that they are most certainly loved and treasured.
Follow Your Heart
While we hope that this little guide helps you find something meaningful for the ones you love, we also want to remind you that in the end, you make the meaning. Follow your heart and your intuition when you're shopping for a gift, and remember that it can symbolize whatever you want—all you have to do is articulate it!