From minimalistic to vintage-inspired jewelry, explore our extensive selection of styles. You're sure to discover just the one you need.
Make Merry & Save Up To $150!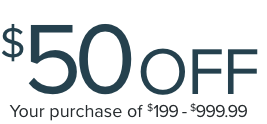 Use Code CHEERS50 At Check-Out
Use Code CHEERS150 At Check-Out
At REEDS Jewelers, we have pieces for every occasion. If you're getting ready to pop the big question or walk down the aisle, we have a wide selection of engagement rings and wedding bands to complete your bridal set. Shop popular designs like solitaire engagement rings or reminisce on times past with vintage-inspired wedding jewelry. In our exclusive REEDS jewelry collection, we carry a number of top engagement ring designers including Ellaura Bridal, ECONIC, and Kleinfeld Fine Jewelry.
In addition to bridal jewelry, we also have top fashion jewelry and fine jewelry selections that fit any budget or occasion. Whether you're shopping for a friend or family member, a significant other, or yourself, we have pieces that you'll love. Shop top designers including David Yurman, Alex & Ani, PANDORA, Lightbox Jewelry, and many more. Plus, our collection of REEDS jewelry is always growing, so make sure to keep looking so you don't miss something you love.
Jewelry makes the perfect gift for any occasion. Whether you're buying for your significant other, a family member, or a friend, there's a piece of jewelry that's perfect for them. We understand the meaning jewelry can add to the special moments in life and are here to help you find a gift your loved one will cherish.
To find the perfect piece, it's important to know who you are shopping for and what styles they prefer. Is their clothing modern and trendy or classic and simple? When and where do you envision them wearing the piece? Have you noticed them eying a piece of jewelry in-store or online? Have they ever brought up specific jewelry designers in discussion? Answering these questions can lead you to the perfect piece of jewelry to gift them. Remember, you can always bring your loved one into one of our many REEDS Jewelers store locations and shop together!
Take a look at our complete collection of REEDS jewelry to find the perfect jewelry gift.