Wedding Day Jewelry
Think beyond the rings. Explore beautiful earrings, bracelets, necklaces, and more fit for a bride.

EXPLORE
Wedding Day Jewelry
Think beyond the rings. Explore beautiful earrings, bracelets, necklaces, and more fit for a bride.

EXPLORE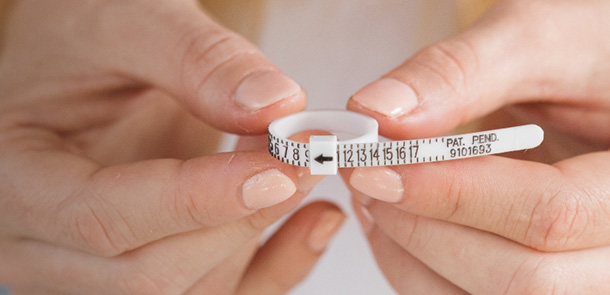 Ring Size Guide
Find your perfect fit with our complimentary ring sizer and detailed instructions on measuring. Never wonder what size you really are again!

FIND OUT YOUR SIZE
Ring Size Guide
Find your perfect fit with our complimentary ring sizer and detailed instructions on measuring. Never wonder what size you really are again!

FIND OUT YOUR SIZE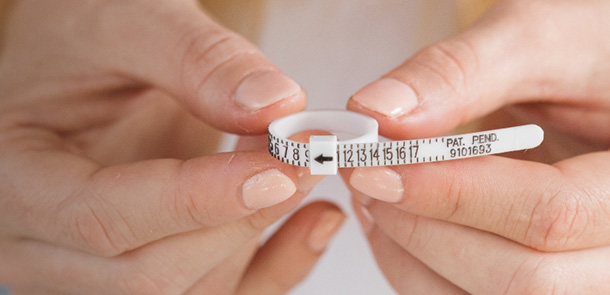 When you find the person you want to spend the rest of your life with, you feel like shouting it to the whole world. The excitement, joy, and pure love are all too much to contain sometimes! You want everyone to know that your future has started now and with your favorite person in the world. That's why wedding rings were created. At least, that's the story we like to believe. Wedding rings are a way to proudly wear the love and commitment you have in your life. They're a way to show off your spouse even when they aren't in the room — and tell the world how much you adore them. Wedding bands are a part of a rich tradition that should be celebrated every day. To put it simply, the joy of wedding rings is one of the best reasons to get into the jewelry business!
We've carefully curated our collection of wedding bands, with stunning choices for both men and women. Our collection includes, but is not limited to, women's & ladies' yellow gold, white gold & rose gold wedding bands & men's tungsten, yellow gold, white gold, rose gold, & tantalum wedding bands. Then, we put them through a two-part inspection to make sure they will stand the test of time. First, we inspect the quality with the manufacturer and then our expert jewelers conduct their own inspection before we show any piece to our customers. We're confident that no matter what your personal style is or the design you imagined as a couple, we have a ring you'll love.
Brides will find our collection of wedding rings beautiful, elegant, and made from the most exquisite precious metals. We don't compromise a bit of quality even in our most simple rings. The most important thing to us is that our wedding rings match exactly what your bride dreamed up.
Grooms have their choice of impeccable, masculine wedding bands. While we value grace and tradition, we don't believe men's wedding bands should be a bunch of boring options! At REEDS, you'll find rings of all kinds that will show off more of your personal style.
We've also built an impressive collection of wedding sets for couples that want unity in every detail of their marriage, including wedding rings. We offer bands that can be matched easily to the engagement ring so that the moment you exchange wedding rings, everything will be picture-perfect.
If you're feeling unsure of where to start in your search for the ideal rings, let one of our expertly trained associates help you find the band of your dreams. Whether you come into the store or complete your entire search online, we're ready to answer all of your questions and help narrow down your options until you find exactly what you're looking for.
Or maybe you're not ready to purchase a wedding band just yet, and you need to start at the beginning with an engagement ring. Just like our wedding rings, the selection of engagement rings we offer spans every style and cut while maintaining the quality you expect. Browse our collection online or come into one of our stores today. We can't wait to hear about the ring that will start your forever!