How to Buy an Unforgettable Piece of Jewelry: 8 Questions to Ask
You're trying to find the perfect gift for that special someone, and those glass cases full of dazzling jewelry are calling to you. From sparkling diamond rings to glistening gemstone bracelets, it's all very tempting; but where do you begin?
Silver or gold? Gemstones or lab grown diamonds? Yes, there are a lot of choices to make, but don't let that intimidate you. You'll soon discover that jewelry is the ultimate gift to give someone special in your life.
No doubt, you'll put a lot of thought into choosing the perfect piece for that special someone, and it will all be worth it when you see the smile on their face when they open their gift. Better yet, they will always be reminded of you when they wear it. Any way you look at it, gifting jewelry is thoughtful, personal, and always a good idea!
If you're wondering how to choose jewelry and where to begin, read on for our complete jewelry buying guide, which has all the information you need to shop for the ideal piece. From deciding on their style to determining what's in your price range, we cover it all to ensure that you'll be able to find the perfect gift for someone you love.
When you're figuring out how to buy jewelry for someone special, begin with the basics. Think about the reason you're searching for the gift in the first place. You're probably celebrating something special like a birthday, holiday, graduation, or anniversary. Each of these occasions present a unique opportunity to spoil your loved one with a commemorative piece of jewelry.
Maybe you're looking to surprise your significant other, or perhaps you're hoping to impress your future in-laws. You could be celebrating your first anniversary or even spoiling your best friend. But if you're in the mood to treat yourself, don't be bashful, we fully support that, too!
Considering the purpose and intentions behind your gift can help set the tone and guide your search. If you're going for a "wow" factor, you'll want something bold and impressive—the more sparkly the better! Alternatively, if it's a "just because" or a thank you gift, simple and elegant may be the more appropriate route to take.
2) What's Their Personal Style?
Next, let's focus in on that special person. What is their style, personality, and what makes them unique? Sometimes what they're most drawn to is a reflection of themselves. Are they loud and proud or quiet and understated? Do they like bright and flashy or prefer delicate and subtle? This could be the difference between a big, elaborate gemstone ring or a dainty silver necklace. Identifying your loved one's personal aesthetic will help you pinpoint the types of jewelry that match their style the best.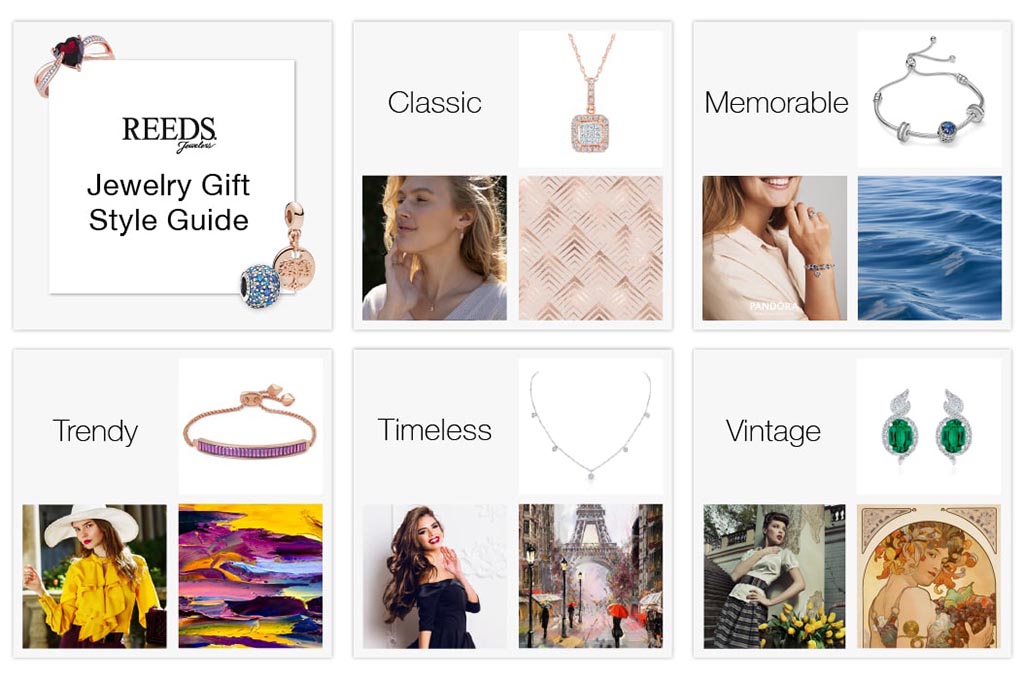 When deciding how to buy jewelry that will match your loved one's style, you can also look at what kinds of jewelry they tend to wear most often. Maybe they like to wear the same necklace all the time or they rock a different pair of earrings every day. Eye their current jewelry collection and get clues from their day-to-day style.
Something else to consider when studying up on your loved one's style is their preferred color palette. Does most of their clothing and jewelry consist of cooler colors, like blues and greens? Or do they opt for warmer tones like yellows and reds? Or if they have a favorite color, make sure to take note! Then, peruse our collection of Lightbox jewelry, which features lab created diamonds in a variety of colors and styles. If you're looking to match a cool color palette, opt for a pair of earrings with lab grown blue diamonds. If you're complementing a warmer palette, or a more feminine sense of style, a modern necklace from Lightbox featuring lab grown pink diamonds should do just the trick!
Taking a cue from what they already enjoy wearing can help you determine how to choose jewelry that will best suit your loved one's personal preferences.
3) What Are Your Jewelry Options?
When it comes to jewelry gifts for her, we have a wide selection of necklaces, rings, earrings, bracelets, and watches. Simple or embellished? Plain or colorful? The choice is yours. Just keep the occasion and their personal style in mind as you browse.
As for jewelry gifts for him, we carry a variety of watches, rings, necklaces, bracelets, and even decorative accessories like cuff links. Similar to the women's selection, you'll find everything from delicate and refined options, to daring look-at-me designs!
When it comes to educating yourself on how to choose jewelry, getting familiar with the details and variety of jewelry store options is crucial. Knowledge is power! You can start by browsing through our selections and familiarizing yourself with the kinds of gemstones, stone colors, and metals available. You can also narrow down the options by necklace, bracelet, ring, earrings, and watch types. For a good foundation, notice how a bolo bracelet differs from a chain bracelet and admire the difference between gemstone options like aventurine and aquamarine.
Once you have an idea of the kinds of options that are available, consider how they may match up with their style. Presents like diamond earrings and silver watches are timeless, while statement pieces made with colorful gemstones and symbolic pendants can be playful and dramatic. If you're still having trouble nailing down an idea of what they may like, don't hesitate to ask their friends, coworkers, or family members for advice.
Don't overlook little add-ons, too, like jewelry boxes and jewelry cleaners to help protect the jewelry and keep it shining bright. You can even add on a REEDS gift card, so they can pick out something extra for themselves.
4) Are You Buying Customized Jewelry?
Our next tip on how to buy jewelry involves exploring customized and personalized gifts. Going this route shows you've gone that extra step and really put some thought into your decision. It also sets the piece apart from any other jewelry out there.
For starters, enter into the world of PANDORA charm collections. Your gift receiver will need a PANDORA bracelet or necklace to place the charms on. If they don't already have one, you can opt for a PANDORA gift set, which includes a base necklace or bracelet and charms to get started with.
PANDORA charms make the perfect personalized gift because you can find pieces that represent your loved one's hobbies and interests. Whether you're getting a gift for a Disney lover, football fanatic, new mother, or newlywed, PANDORA has a charm for them. The best part about Pandora charms is that you'll always have a go-to gift for future occasions.
Another customized gift option is personalized jewelry. Here, you can shop for jewelry decorated with the birthstone that represents that special someone's birth month. You can even add your or other family members' birthstones to the piece to make the gift extra meaningful. For example, the gemstone for people born in May is emerald, while amethyst, a dark purple gemstone, is for people born in February. Or, celebrate your school colors and show your pride!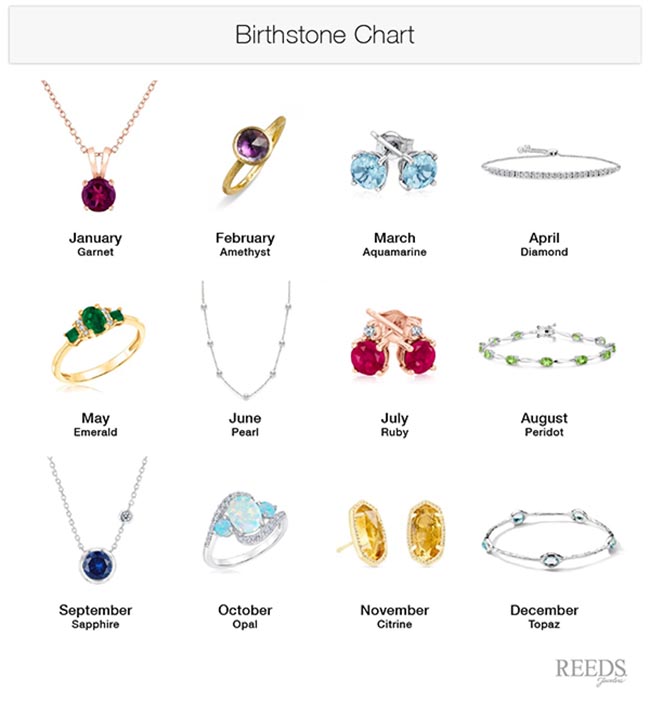 As exciting as it is searching for that perfect piece of jewelry, don't forget to keep an eye on your budget. When learning how to shop for jewelry, your maximum spend will also help serve as a guide when perusing your options.
Even if you're on a tight budget, that doesn't mean diamonds are out of the question. Look into lab grown diamonds as an option. Created in a controlled lab environment, these diamonds are often less expensive than their naturally grown counterparts. They're available in the same shapes as natural diamonds, and you can still evaluate them with the 4 Cs (color, clarity, cut, and carat). Take a look at our lab grown diamond guide to learn more about these cost-savvy alternatives.
Once you've established your price range, you can begin your search. When you look through our jewelry inventory, you'll find pieces that suit every kind of budget, no matter how big or small.
Begin by exploring our gifts under $125 and gifts under $250. You might be surprised at just how much bang you can get for your buck! For women, you'll find pendant necklaces, birthstone jewelry, and various styles of earrings, from diamond studs to gold hoops. As for the men, the options run the gamut, and include leather-woven and steel-link bracelets, as well as digital watches and silver bands.
When the price tag is top-of-mind, our Clearance Sale is another excellent place to find jewelry that best suits your budget. We have all kinds of gifts at reduced rates, so you're sure to find that perfect something. Sort through all the categories, from the crystals to the charms, and compare the sale price to the regular cost. The best part is that you'll score a high-quality piece of jewelry and no one will know about the sale price!
6) Have You Looked Online?
Give yourself plenty of time to shop around and do some research online before making a final decision on a piece of jewelry. Part of understanding how to shop for jewelry is realizing that you may not find "the one" on your first try.
When you give yourself leeway, you can shop at your own speed without feeling like you're running up against a deadline. By leaving enough time to do some browsing online, you'll be able to get a full idea of what your options are and hunt down and hold out for upcoming sales. While we always welcome you to visit us in-store at one of our many locations, a great place to start is our online Gifts section, where you'll find jewelry suggestions curated by our team.
When you shop our online inventory, you can browse a full variety of jewelry options suitable for people of all ages celebrating just about any occasion, all from the comfort of your own home! Sort through the images, descriptions, and rates at your own pace. If you find a piece you like online but still want to check it out in person, head to your nearest REEDS store. We're always happy to help you!
Shopping with us online has added perks, too. You'll score free shipping on orders over $30 to the continental U.S., along with 30-day free returns and exchanges. You can also take advantage of our Jewelry Care Plans, which help protect your gift with special warranties. Gift shopping plus convenient shipping and protection plans, all without having to leave your couch? Not too bad!
7) When Is the Best Time to Give Jewelry?
After following our jewelry buying guide, you've picked out a memorable present for someone you love, and know a lot more about how to shop for jewelry. But, there's just one lingering problem: You still haven't decided when to gift it! If that's the case, here are a few suggestions of occasions that may warrant a gift:
Winter holidays are a prime time for giving jewelry. Everyone knows a tiny wrapped box means good things on Christmas, Hanukkah, and Kwanzaa! Or, hold off until New Year's Eve—nothing says "new year, new you" quite like a sparkling necklace or earrings. Check out our Christmas jewelry gift guide for some great ideas!

Chocolate and flowers are great and all, but a bracelet or new watch will say so much more. Let your gift do the talking on Valentine's Day.

Another year around the sun together calls for something bright and shiny. Get your family member or significant other a birthday or anniversary present they'll wear for years to come!
It's nearly impossible to thank Mom and Dad for all they've done for you, but you can certainly make a grand gesture with the gift of jewelry. Surprise your parents with a Mother's Day gift or Father's Day gift, like a bracelet or cuff links.
Don't worry, your present won't outshine their wedding bands! Giving jewelry as a wedding gift to the newlyweds is always a thoughtful gesture.

You can't beat the gift of life, but push presents add an extra special touch to the already monumental occasion of a new addition to the family. You can present the special gift before or after the birth, or even in the delivery room.

All that hard work deserves a little bling. Surprising your friend or loved one with graduation jewelry is the best way to say, "Congrats!"
There's one other big occasion we must address: your engagement day! With all of the holiday cheer and family gatherings, December can certainly be a magical time to pop the question.
If you'll be getting down on one knee next to the Christmas tree, we're here to help you plan the perfect proposal. For tips and tricks on how to shop for an engagement ring your soon-to-be spouse will love, check out our guide on how to buy an engagement ring so you're ready when it comes time to pop the question.
If you're ahead of the game and already have a spot and time picked out for your proposal, and are just in need of the perfect ring, make sure you take a look at our exclusive Kleinfeld collection. Kleinfeld engagement rings are inspired by the flowing and elegant designs that have come to characterize the iconic New York bridal brand. It's nearly impossible to say "no" to a Kleinfeld ring!
8) Have You Treated Yourself?
If you're looking to treat yourself, many of the same rules on how to buy jewelry apply. If you're not sure where to start, look at your current jewelry collection and see what gives you joy or what you feel is missing. From there, check out our large selection to get to know the styles, options, and pricing options available to you.
Also, think about timing. Are you treating yourself for a milestone achievement, like a job promotion? Or simply because you deserve the finer things in life? Both are completely valid reasons! If you don't have a date attached to when you want the jewelry, you can be extra picky and take your time with the process to ensure you find the perfect piece.
Don't let the pressure of shopping for jewelry overwhelm you. At the end of the day, remember your special person is the whole reason you're searching for something in the first place. Follow your heart—and our guide on how to find the perfect gift for someone special (or yourself!) and you'll make the right choice.