Searching for a personalized gift (or just a treat for yourself?) Birthstones can add an extra personal dimension to any present you're planning. The idea is simple—there's a stone (sometimes even two!) that coordinates with the month a person was born. Though the practice of wearing birthstones is believed to have biblical origins, it became especially popular in the 19th and early 20th centuries and hasn't let go since. Let's take a tour of every birthstone by month.
JANUARY'S BIRTHSTONE
Garnet
January's birthstone is garnet. This rich, deep red stone is one of the oldest known gemstones in the world, and is often seen as a symbol of vitality and friendship. Beloved by the ancient Egyptians, Greeks, and Romans, the stone has been retrieved on a number of precious historic relics.
The word garnet is derived from the Latin term for seed, believed to be a reference to the pomegranate seed that shares its extraordinary color.
FEBRURAY'S BIRTHSTONE
Amethyst
February's birthstone is amethyst. Belonging to the quartz family, this famous purple stone is one of the most common minerals in the world. But that doesn't make this birthstone's gorgeous coloration and mystical connections any less appealing.
February's birthstone has long been a symbol of royalty and is said to represent purity, offering clarity, peace, and connection with the divine.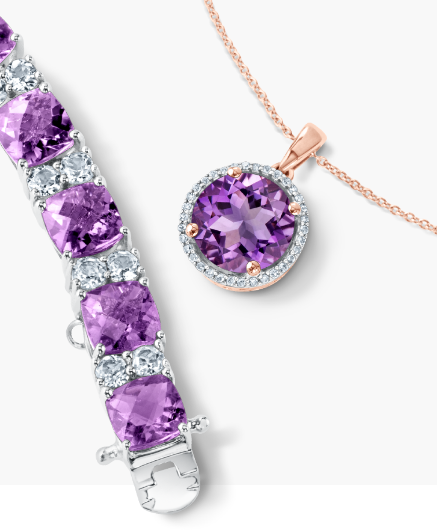 MARCH'S BIRTHSTONE
Aquamarine
March's birthstone is aquamarine, a gorgeous stone named for its ocean-like hue. Just like lapping waves of seawater, March's birthstone is said to calm and soothe, cleansing the spirit and bringing happiness.
A member of the Beryl family, it's light blue hue is beautiful and easy to wear every day.
APRIL'S BIRTHSTONE
Diamond
April's birthstone is diamond—lucky you! Those born this month enjoy an extra excuse to wear one of the most prized (and rarest) stones on earth. Though you may immediately picture a crystal clear diamond, they do come in a variety of hues, ranging from yellow to pink and even black.
Not surprisingly, April's birthstone is associated with strength (it's one of the hardest elements out there, after all) as well as love and faithfulness (hello, engagement rings).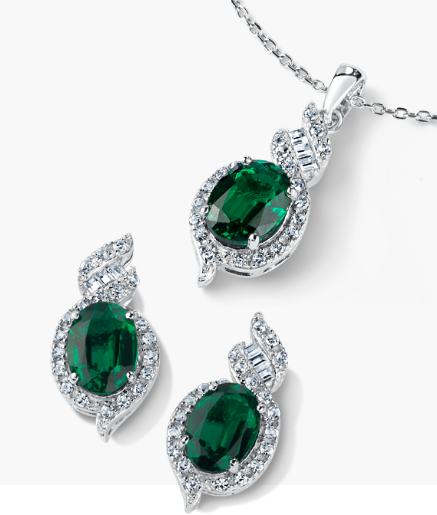 MAY'S BIRTHSTONE
Emerald
May's birthstone is emerald, and is there anything as lovely as this deep forest green shade? Called "the jewel of kings" and notably worn by Cleopatra herself, they're said to be stones of immortality, eloquence, and power. A member of the Beryl family, the deeper the green the more sought after the stone. True emeralds are rare and top the charts in value.
JUNE'S BIRTHSTONE
Pearl
June's birthstone is pearl and they're considered symbols of wisdom and serenity, bringing calm to whomever wears them. Interesting fact about June's birthstone: Unlike other birthstones that are mineral-based gemstones and form underground, pearls are harvested from freshwater and saltwater mollusks—so they're technically gems, but not actually stones. This sets them apart and their lustrous, milky glow is truly something special.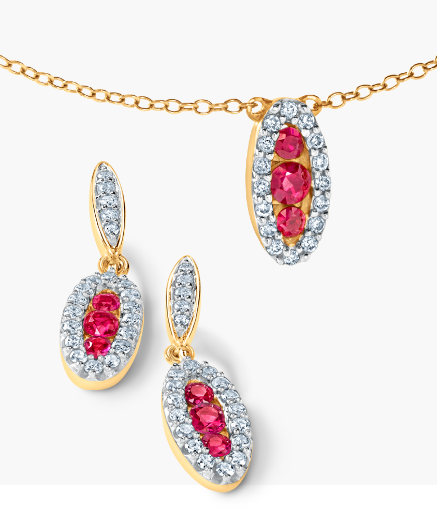 JULY'S BIRTHSTONE
Ruby
July's birthstone is ruby. Though they're most famous in shades of deep red, rubies can also be pink and other colors, depending on the mineral content. According to the GIA, ruby is the most valuable of any colored stone, even beating out sapphire. Those with ruby birthstones will enjoy symbolism said to include power, wealth, and protection.
AUGUST'S BIRTHSTONE
Peridot
August's birthstone is peridot and has a fascinating birth story of its own—like diamonds, it can be formed deep in the earth's crust and eventually brought to the surface through volcanic eruption or earthquake. But the peridot birthstone has also been found in meteorites and even samples from the moon (as Olivine). Symbolically, August's birthstone is a stone of healing and well-being.
SEPTEMBER'S BIRTHSTONE
Sapphire
September's birthstone is sapphire, and while it's most famous for its brilliant blue hue, it can actually come in a range of colors, from white to peachy pink and even black. Sapphire has captivated us for centuries and has even played a prominent role in history and world religion—the Greeks wore it for guidance, the Buddhists wore it for enlightenment, and ancient Hebrews believed the 10 commandments were written on a tablet made of sapphire, according to the American Gem Society. In more modern times, we all remember the stunning 12-carat blue sapphire engagement ring that Princess Diana wore and associate the stone with truth, sincerity, and faith.
OCTOBER'S BIRTHSTONE
Opal
October's birthstone is opal, and is there anything more mesmerizing? Opals have such unique patterns that the International Gem Society notes they've warranted their own descriptive vocabulary—each gem is more individually distinctive than any other gemstone. Opal is not only gorgeous, but glitters with symbolism, known for inciting optimism, creativity, and hope.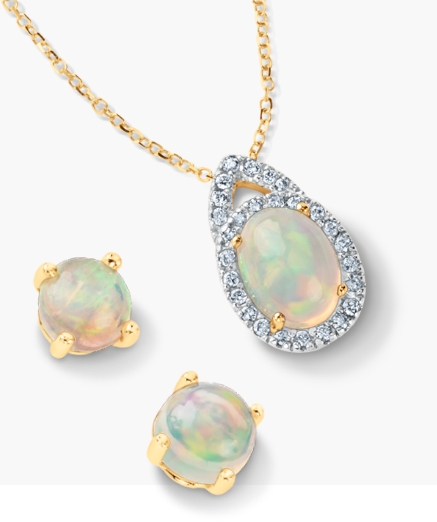 NOVEMBER'S BIRTHSTONE
Citrine
November's birthstone is citrine, celebrated as a symbol of positivity, prosperity, and calm. Citrine is a sunshine yellowish to orange hue and a member of the quartz family. Adored since Greek and Roman times, its name fittingly comes from the French word for lemon: citron. November is a perfect month to wear this stone, as it reflects the mood of the autumn foliage and pairs well with other jewel tones popular in the fall. But don't put it away come December—this birthstone is gorgeous all year, too.
DECEMBER'S BIRTHSTONE
Tanzanite
December's birthstone is tanzanite, a gemstone that can range from vibrant blues and violets to deep purples. Adding to its special significance is the fact that it can only be found in one place in the entire world—near Mt. Kilimanjaro in Tanzania. There, the Masai tribe is credited with discovering the stone as recently as 1967. This gorgeous stone is believed to bring harmony, inspiration, and transformation to its wearer.