Necklace and Chain Size Guide
Non-custom necklaces or chains come in industry standard lengths; five different lengths for women, and four for men. The table and model below describe and illustrate these standard sizes.
Standard Necklace Sizes for Women

Standard Necklace Sizes for Men

16"- Choker Length
17-18"- At collarbone
20"- A few inches below collarbone
22"- At or above neckline
24"- Below the neckline

18"- Base of the neck (for smaller neck sizes)
20"- To collarbone (most common length for average men)
22"- A few inches below the collarbone
24"- A few inches above the sternum
30"- At the sternum
Choosing Chain Lengths for Women
The Right Fit For Her
Consider where the wearer is likely to wear the necklace and the clothing that is likely to be worn with it. Some women may wear different lengths for different occasions and seasons. A choker style may look wonderful with a cocktail dress with a scooped neckline but may not fit over a turtleneck sweater. Many women opt for longer necklaces in the winter as bulky clothing may require the extra length. Take the wearer's size into account. A 24 inch necklace on a petite woman may hang down too far just as the same necklace may be ideal for a larger woman. In general, the shorter the necklace, the more important the size. Necklaces that are too short may not fit at all.
Choosing Chain Lengths for Men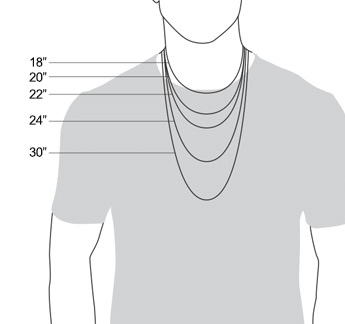 The Right Fit For Him
Most chain lengths chosen for men typically fall at the collar bone, which is usually around 20 inches in length. If the necklace includes a medallion, cross, or dog tag, a slightly longer length is suggested. Multiple chains of varying lengths may be worn for a layered look.
If you are unsure about neck size and whether or not a particular necklace or chain is right for you, please contact a REEDS sales associate at your nearest REEDS store or you can chat with an online representative via our toll-free number or live chat. We'd be happy to help you select a suitable style of necklace that meets your specific requirements.
Custom Sized Necklaces
Choosing the Right Necklace Length
Everyone is unique, both physically and in aesthetic preferences. In other words, we aren't all "standard" size nor do we have the same taste in jewelry. For individuals that require a special size necklace, sometimes ordering the same necklace in the next standard size (either up or down) works as well as customization. Depending on the style of necklace, a jeweler can also remove links to shorten the length for those with small necks. (Note: It's always a good idea to keep the extra links in case the necklace is eventually passed on to an individual with a larger neck or backup links are needed in the event repairs are necessary.) Not all necklaces are available in the size you may need however, and customization may be necessary.
If you have a specific necklace or chain style in mind and customization is necessary, several steps need to be taken. First, contact REEDS via telephone, email, live chat or in store and specify your special requirements in regards to size and style. We'll check with the manufacturer and/or expert jewelers regarding not only the availability, but the feasibility of customizing a particular necklace in the desired size. If the necklace can be customized, we'll provide you with a quote and timeframe for completion. Please note that custom orders take time, not only to obtain quotes, but for the customized construction.
Make Sure and Measure
Prior to placing an order, or making a purchase, it's vitally important to correctly size the wearer's neck. A man's neck size corresponds to his shirt's collar size. But measuring neck size for women is generally necessary as size is often unknown. Measurements may be taken by REEDS' in-store professionals or you can take a measurement at home using a soft measuring tape. If you do not have a soft measuring tape, you can use a ribbon instead. First, wrap the ribbon around the base of the wearer's neck, and mark the spot where the ends meet. Then, lay the ribbon against a yardstick or ruler to determine approximate neck size.
After a measurement is obtained, its a good idea to opt for a necklace size that is at least the second size up from your neck size. For example, if you have an 18 inch neck, you should probably choose a chain length of 20 inches or more. An 18 inch chain would feel too tight. Also consider the type of necklace when choosing length. Does the necklace lie flat? Is there a heavy dangling pendant? These aspects can both affect how a chain will hang.